Traditional Chinese Medicine
Dec 1, 2016
Posted by nameless
Introduction
Acupuncture is the practice that most often comes to mind when thinking of Chinese medicine, but TCM represents a much broader system of medicine that includes herbs, massage, diet and exercise therapy. The underlying basis of TCM is that all of creation is born from the interdependence of two opposite principles, yin and yang. These two opposites are in constant motion, creating a fluctuating balance in the healthy body. Disease results when either yin or yang is in a state of prolonged excess or deficiency. Traditional Chinese medicine, which encompasses many different practices, is rooted in the ancient philosophy of Taoism and dates back more than 5,000 years. Today, TCM is practiced side by side with Western medicine in many of China's hospitals and clinics.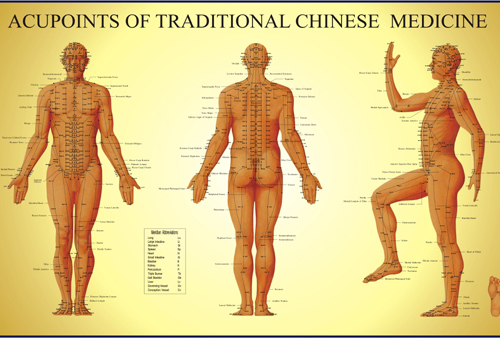 Underlying Concepts
Underlying the practice of TCM is a unique view of the world and the human body that is different from Western medicine concepts. This view is based on the ancient Chinese perception of humans as microcosms of the larger, surrounding universe—interconnected with nature and subject to its forces. The human body is regarded as an organic entity in which the various organs, tissues, and other parts have distinct functions but are all interdependent. In this view, health and disease relate to balance of the functions.
The theoretical framework of TCM has a number of key components:
Yin-yang theory—the concept of two opposing, yet complementary, forces that shape the world and all life—is central to TCM.
In the TCM view, a vital energy or life force called qi. In traditional Chinese medicine, the vital energy or life force proposed to regulate a person's spiritual, emotional, mental, and physical health and to be influenced by the opposing forces of yin and yang. circulates in the body through a system of pathways called meridians. Health is an ongoing process of maintaining balance and harmony in the circulation of qi.
The TCM approach uses eight principles to analyze symptoms and categorize conditions: cold/heat, interior/exterior, excess/deficiency, and yin/yang (the chief principles). TCM also uses the theory of five elements—fire, earth, metal, water, and wood—to explain how the body works; these elements correspond to particular organs and tissues in the body.
Treatment
TCM emphasizes individualized treatment. Practitioners traditionally used four methods to evaluate a patient's condition: observing (especially the tongue), hearing/smelling, asking/interviewing, and touching/palpating (especially the pulse).
TCM practitioners use a variety of therapies in an effort to promote health and treat disease. The most commonly used are Chinese herbal medicine and acupuncture.
Chinese herbal medicine. The Chinese materia medica (a pharmacological reference book used by TCM practitioners) contains hundreds of medicinal substances—primarily plants, but also some minerals and animal products—classified by their perceived action in the body. Different parts of plants such as the leaves, roots, stems, flowers, and seeds are used. Usually, herbs are combined in formulas and given as teas, capsules, tinctures, or powders.
Acupuncture. By stimulating specific points on the body, most often by inserting thin metal needles through the skin, practitioners seek to remove blockages in the flow of qi.
Other TCM therapies include moxibustion (burning moxa—a cone or stick of dried herb. A plant or part of a plant used for its flavor, scent, or potential therapeutic properties. Includes flowers, leaves, bark, fruit, seeds, stems, and roots., usually mugwort—on or near the skin, sometimes in conjunction with acupuncture); cupping (applying a heated cup to the skin to create a slight suction); Chinese massage; mind-body therapies such as qi gong and tai chi; and dietary therapy.
Examples of TCM Uses and Studies
Both acupuncture and Chinese herbal medicine have been successfully used and studied for a wide range of conditions. A few examples are
Acupuncture
Back pain
Chemotherapy-induced nausea
Depression
Osteoarthritis
Chinese herbal medicine
Cancer
Heart disease
Diabetes
HIV/AIDS
Recent NCCAM-supported studies have been investigating:
TCM for endometriosis-related pelvic pain, irritable bowel syndrome, and temporomandibular (jaw) disorders
Chinese herbal medicines for food allergies and for osteoarthritis of the knee
Consistency of TCM practitioners' diagnosis and herbal prescriptions for rheumatoid arthritis patients.