11-Year Old Filipino Twins under Meticulous Care at Renai
These years witness a continuation in the upward trend of the number of foreign patients in Shanghai hospital. Statistics show that there are about 300,000 foreign resident populations in Shanghai currently . With the internalization of Shanghai high-end medical technology, more and more foreigners are willing to choose local hospitals as their health provider.
On March 12, 2019, "Tonsils and adenoids ablation" were successfully performed on 11-year-old Filipino twins at Shanghai Renai Hospital.
According to their parents, they came to Renai because their twin boys always have pharyngalgia, stuffy nose, and aural fullness.
Our medical team paid high attention to this surgery and medical care process due to the cultural difference and particularity of the age. Currently the twins are in good recovery after surgery.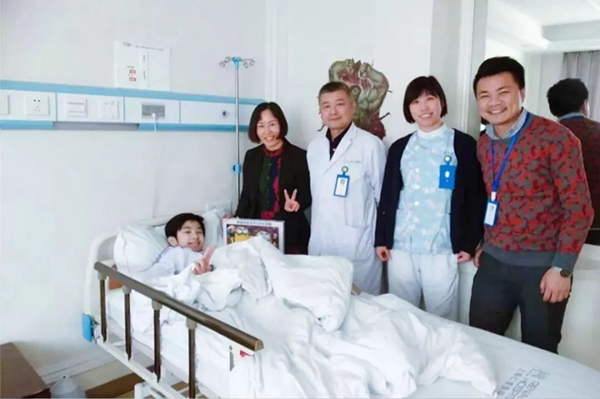 "They've taken care of us through all the process.The quality of service is really impressive. At first, I was so worried about my kids so I asked so many questions , and your doctors and nurses answered them all professionally. We are so grateful about the results.", the twins' mother told the journalist.
The Renai Hospital focused on details of the service. The medical care team attached 2 labels written with 'younger' and 'elder' on twins' clothes to distinguish one patient from another in order to ensure the safety of medication and medical care.
Once learned that these twin brothers are Marvel fans, the team decorated the ward with superhero stickers everywhere.
"The jigsaw and the stickers helped me completely get rid of the feeling of inpatient therapy, it feels like home here." the twin brothers said to the reporter, while playing with jigsaw.
One of the most common problems when living in a foreign country is communication barriers. As the mother of the twins noted, in the International Department of Shanghai Renai Hospital, English is common language with no barriers to communication. The environment, service and the nurses who can speak English all reassure the patients and their families. International insurance direct billing also makes it easier for foreigners to seek medical care.
According to Dr. Guo, the E.N.T. specialist, tonsil and adenoid hypertrophy could do harmful to the growth of children if left untreated. Please seek medical help for your child promptly if having symptoms of apnea or snoring.
With both a benevolent mind and heart, big love is among the ordinary. As long as we feel love , everywhere is our home. At the time of publishing, the twins had recovered enough to have checked out of the hospital . We'd like to extend our sincere wish to them for good health and brighter future.