Are You Troubled by Waste Sorting? I'm Learning It at Renai Hospital
Waste sorting is in full swing in Shanghai now. But have you already known how to classify garbage correctly?
On June 29th, Shanghai International Medical Center held an activity about refuse sorting, aiming at teaching people how to classify garbage and publicizing environmental protection.
Over forty people joined us and mainly were foreign patients. The foreign interns were also invited.
Before the activity started, Mrs. Zhou Hong, the vice-president of Renai Hospital, gave an explanation of garbage classification.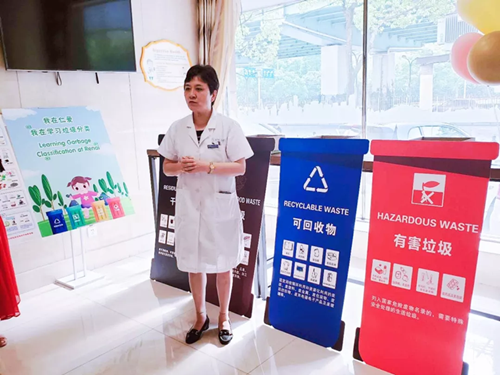 After that, Mrs. Fu Ying, the general manager of the International Department, threw rubbish to corresponding boxes firstly to start the activity.
Let us sort waste from now on!
The doctors, nurses and other staff took an active part in the activity. When hearing about the event, the T.C.M. doctor who was going to massage a patient and the nurse who was busying with infusion all expressed their willingness of participation.
The patients also learned how to classify garbage through the activity.
The internist Dr. Lu Huiying shared her pithy formula for sorting waste, which is all about a pig.
The wet waste can be used to feed a pig; while the dry waste can not. The harmful waste can poison a pig; and the recyclable waste can be sold to get money for buying a pig.
Is that easy to remember? Let's get started.