Center for IBD set up at Ren'ai Hospital
A branch of Shanghai Jiao Tong University's Inflammatory Bowel Disease Diagnosis and Treatment Center has been set up at Ren'ai Hospital to carry out early screening and research non-invasive screening for colorectal cancer.
Inflammatory bowel disease, or IBD, is characterized by chronic inflammation of the gastrointestinal tract. The two most common variants are ulcerative colitis and Crohn's disease, both of which involve an abnormal response to the immune system. People with IBD have an up to 20 times higher chance of colorectal cancer than others.
There has been a 24-fold increase in patients with IBD in China in the past decade, a total of 35,000. Early diagnosis and treatment is key, said Gao Lei, the hospital's vice president.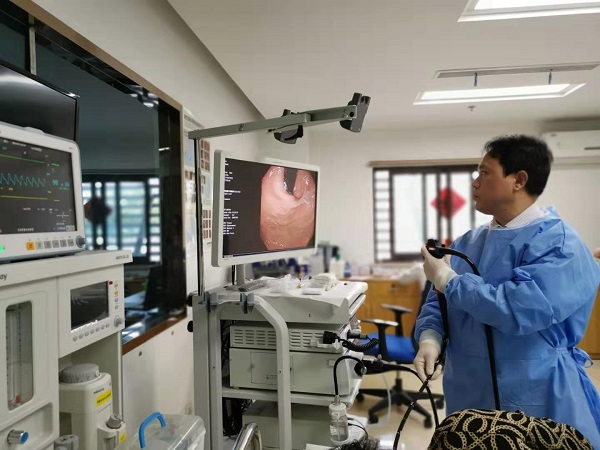 A patient is given a colonoscopy during checks at Ren'ai Hospital.
Treatment for IBD is complicated and the university's IBD center has achieved great results with therapies such as fecal microbiota transplants.
"We will offer more professional and individualized treatments at the new Ren'ai branch and offer early screening and early diagnosis on colorectal cancer for patients with IBD," said Dr Wu Jianjiong, the IBD center's director.
Colorectal cancer is one of top three cancers in Shanghai and its incidence is increasing by 4.2 percent per year. Fewer than 10 percent of patients are detected at an early stage.
"Regular and early screening are very effective for colorectal cancer prevention and control," said Gao.
Source: SHINE Editor: Cai Wenjun