Exploring the Amazing World of T.C.M. at Renai
To explore the amazing world of traditional Chinese medicine(T.C.M.) and give the overseas students in Shanghai an opportunity to learn T.C.M. culture closely, Shanghai Renai Hospital International Medical Center organized a two-day lecture about T.C.M. culture for over 70 students from EF Mandarin School on November 14 and 15. They come from North America, Europe, Japan, Korea etc..
Through the activity, the students learned the inheritance and development of T.C.M., experienced the subtlety of T.C.M. and understood T.C.M. culture and its long history.
"Traditional Chinese medicine is a vast treasure house that we really ought to fully explore and improve," Tu Youyou who was received the Nobel Prize in Physiology and Medicine said.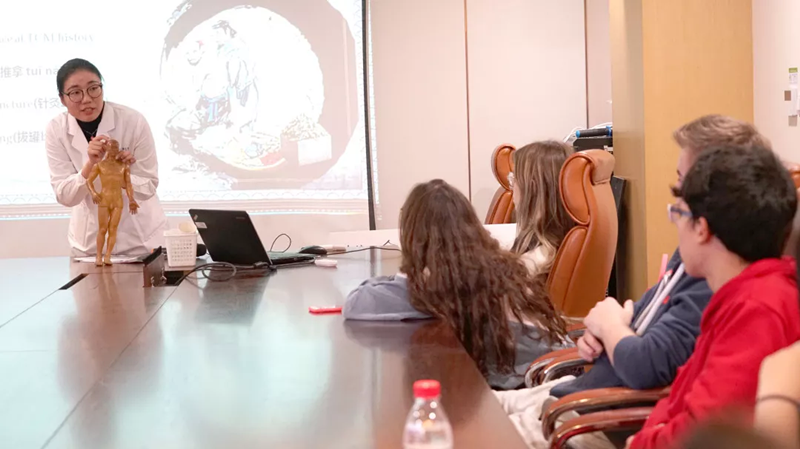 The Yellow Emperor's Canon of International Medicine which was written two thousand years ago points out that what a doctor excels is not treating patients but preventing diseases. Disease prevention is the health outlook of T.C.M., the healthy medical mode for humans.
On the lecture, the overseas students had a deep understanding of the treatment principles of T.C.M., including the basic theory—Yin Yang and Five-elements Thoughts—and the diagnosis and treatment methods—look, listen, question, and feel the pulse.
The development history of T.C.M. was a real eye-opener for the overseas students. They were surprised at the amazing T.C.M. culture and said it was deserved to be called a quintessence of Chinese cultures.
The hospital staff introduced special T.C.M. therapies like tuina, acupuncture, and cupping. In order to let the students have a concrete understanding of cupping, the staff brought the cups to the lecture. She told the students that cupping was a good treatment for relieving the symptoms caused by cold factors, as well as deficiency and dampness syndromes because it can heat governor vessels.
The students listened carefully. They learned the spirit of ancestors in medical field and their work ethics, healing the wounded and rescuing the dying. "The activity is pretty meaningful. I learned a lot from it and my horizon was expanded," a Japanese student majoring at nutritional science said.
Later on, accompanied by the hospital staff, the overseas students visited Shanghai Renai Hospital International Medical Center. As a hospital that set up the service involving foreign patients early, the facilities at the International Medical Center conform to international standards. Before visiting the doctor, patients need to reserve an appointment. They will see a foreign doctor first and see an expert later. Till now, the hospital has established direct billing with most international insurance companies to make patients' visit convenient.