Cervical Pain Therapy Special Offer
Jun 30, 2017
Posted by nameless
James is an office worker. He need to work 8 hours everyda in front of the computer. He suffers a lot from neck pain and muscle soreness which gradually interfere with his daily life. James heard that T.C.M therapies are effective for relieving neck pain and sore muscle, so he wants to have a try.
After a consultation with the T.C.M therapist, he realized neck pain now has become a very common disease among the youngers, if he does not solve this condition ASAP, it might make his health condition worse(lol). Worse conditions include dizziness, hands /feet numbness and insomnia.
The therapist recommended the cervical pain therapies which includes acupuncuture, tuina(massage) and cupping.The TCM therapist gave him a Tui Na massage first. James felt an immediate relaxation all over the body.
After sterilization the therapist gave him an acupuncture therapy around the neck and waist area. James feels a little sore while the therpist doing the acupunture.
After the acupuncture was done, the therapist gave him a cupping therapy. After all the therapies were done, James feels much better than before he came.
The therapist also mentioned that with the neck pain condition he should always keep an eye for his neck, and it's better to keep following up the visit once a week to reinforce the effect of the therapies.
Cervical Pain Therapy Special Offer
Neck Tuina(massage): 450CNY.
Neck Acupuncture: 60CNY
Du Moxibustion: 100CNY
TDP Infrared Therapy: 100CNY
Consultation Fee: 500CNY
Original Price:1210CNY
Current Price:420CNY 65% OFF
Please Note:
The special offer can only be used in the first time.
For the follow up we don't charge the consultation fee.
You can get a 30% off discount for the follow up treatments.
Offer valid from April 13, 2017-May 30, 2017
Acceptable forms of payment are: cash, credit cards
Renai T.C.M. Rehabilitation Center
At Renai T.C.M. Rehabilitation Center, we provide a full range of T.C.M treatment including the most sought after ones: Acupuncture, Tuina( massage), Cupping. Our experienced and certificated Chinese Medicine Practioners are here to provide you with the most authentic T.C.M. therapy experience.
We provide individual therapy room for each of our customers that come to our center. You would have a safe and comfortable therapy experience in here.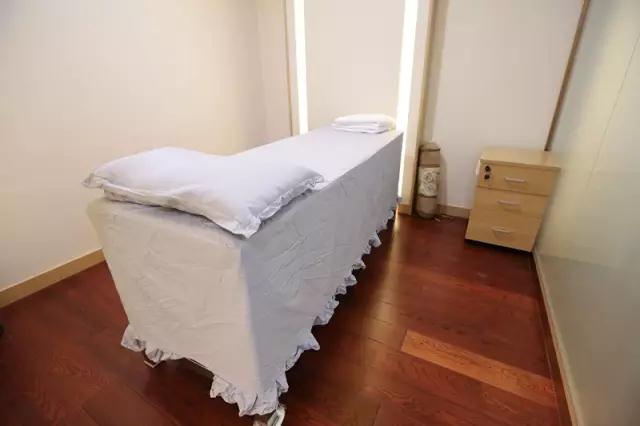 We use disposable thin needles during acupuncture therapy and all of our facilities and instruments involved in the therapy process have undergone strict sterilization. We do our best to bring safe and comfortable experience to you.
If you are tortured by chronic neck pain, lower back pain, muscle pain, or suffer from any other illness, discomfort, or simply would like to relax yourself through T.C.M therapies, we are here to serve you and strive to relieve your pain.